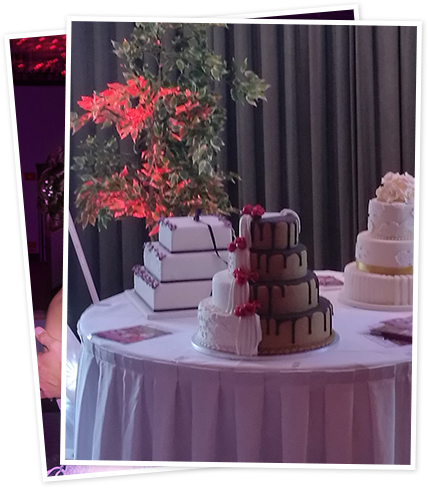 Why Choose Infinity Wedding Services for your Wedding Décor and Entertainment Needs?
With over 30 years in the wedding entertainment industry, Infinity Wedding Services are impeccably placed to ensure your wedding is a resounding success. We offer everything from ceremony and venue décor to dance floor hire and glamorous props for your big day.
Based in Athlone we offer our services to towns and cities right across the country and are delighted to have built up a customer base of clients who are happy to recommend us to their friends and family again and again.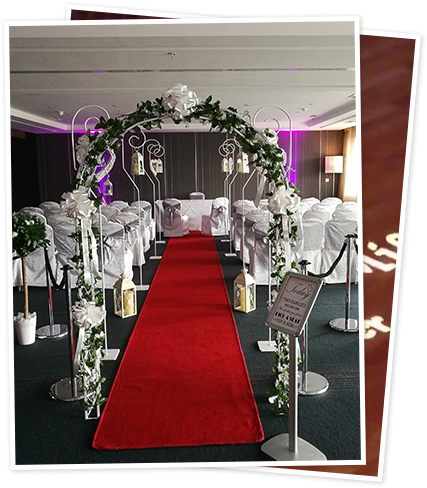 Wedding Services Ireland
Need some more reasons to get in touch with Infinity Wedding Services?
Professional service every time.
We make it our mission to ensure you always receive the best service when you make contact with Infinity Wedding Services. As professionals, we understand the importance of your big day and the stresses that can sometimes come with planning for such a momentous occasion. Let us take the stress off your shoulders and assist with anything we can.
Discrete installations and services that will never impact upon your big day.
Whether you have opted for one of our wedding décor packages or have hired our sparkling dance floor for the night, we can assure you that our presence will never disrupt your big day. Our installers are professional, quick and discrete – a totally seamless service.
Unrivalled pricing
Our pricing is unmatched elsewhere in Ireland. We also offer discounts on multiple prop hire and will discuss your budget options in detail so you know exactly what costs to expect. There are NEVER any hidden extras with Infinity Wedding Services.
Quality props, designed and manufactured to the highest of EU safety standards.
All of our props and décor items are of the highest standard and you will never have to worry about safety where Infinity Wedding Services are concerned.
Friendly staff who are always on hand to answer any questions you may have.
Our fabulous staff are always here to assist you in any way they possibly can. A dedicated bunch of wedding enthusiasts, who will do everything in their power to ensure your big day will be remembered for all the right
reasons.
Wedding Props for Hire Ireland
Discounts for multiple service or prop hire.
When you decide to hire multiple props from our team for your midlands wedding, we will always do our utmost to give you value for money. Speak to us about multiple prop hire or service discounts.
Multiple prop options to choose from.
Unlike other wedding décor companies, we like to offer our customers a vast range of expertly designed props to choose from. Feel free to pop in to our showroom in Athlone and check out all we have to offer.
Bespoke packages tailored to your specific needs.
Need something a bit different? Have some special requests? That's no problem for the team here at Infinity Wedding Services. We are happy to meet with you and your intended and discuss your requirements.
30 Years experience in the industry, resulting in a familiarity with all venues in the Midlands and Athlone area.
Having been in the industry for such a long time, we are in the unique position to be able to offer insider knowledge on each and every venue in the Athlone and Midlands area. Need to know if a certain prop will fit in a
certain doorway or look good against a specific wall? The chances are, we'll be able to answer your questions without ever having to revisit the venue.
We offer solutions that cater to every budget.
Planning for a wedding can be an expensive business and here at Infinity Wedding Services we recognise the need for budgeting. Speak to us about your budget and we'll let you know exactly what's possible. We also offer discounts for multiple bookings.