ILLUMINATED 'LOVE' LETTERS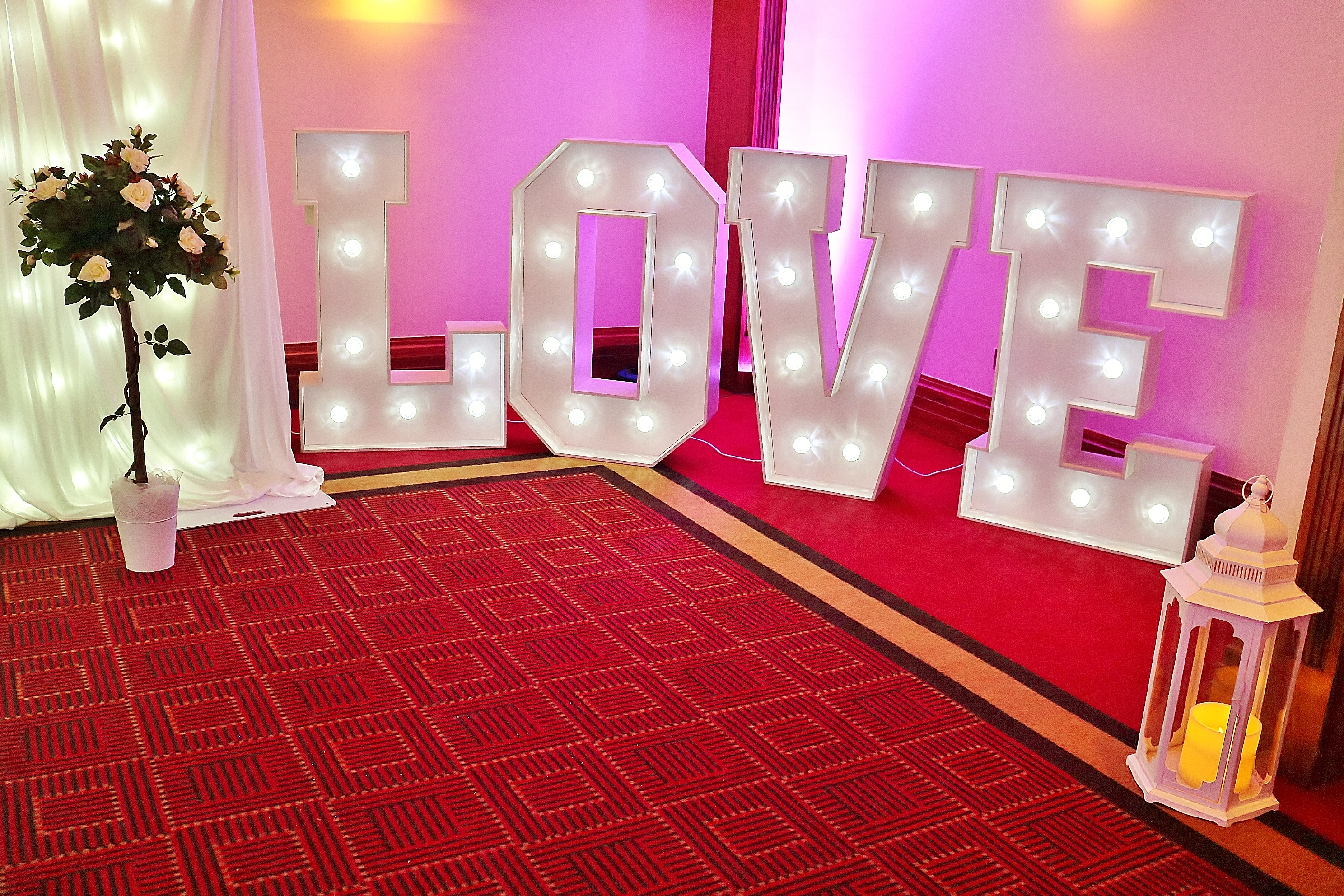 Light Up Letters for Hire Ireland
Check out our beautiful freestanding illuminated letters that spell the word 'LOVE' in glamorous Hollywood style LED lights. These wonderful illuminated letters can be hired for the day of your wedding to add a special touch of glamour to the occasion. Placed in a location of your choice, whether that is the entrance foyer, behind the bridal party table, on a stage or set aside against a wall for photo opportunities, we will set everything up so you don't have to worry about a thing.
We have found that our metre tall, 4 metre long, illuminated 'LOVE' sign is one of the most popular rental props we provide, brides and grooms across the midlands have been queuing up to add this wonderful backdrop to their big day.
Wedding Props for Hire Ireland
A treat for photgraphers – On many occasions we have had photographers and videographers approach us with words of thanks when they see the illuminated signage at the wedding venue. Because of the impressive height and width of the freestanding letters, they make a wonderful backdrop for guest and bridal photographs.
A key feature of the illuminated letters is that the lights can be dimmed or heightened to a level that is appropriate to their surroundings, meaning that during the first dance or speeches the sign isn't distracting from the important events that are happening in the room.
The light up LED freestanding letters are an ideal companion to our LED dance floor and can be hired for your engagement party, wedding reception or bridal party for that extra something special.
Illuminated 'Love' letters for hire Ireland
We have also seen many brides and grooms request that the light up letters be set up behind the bridal party table, this adds a wonderful backdrop once again for photos and really adds to the sense of occasion for all attending your big day.
Safety First – Our illuminated letter are manufactured to the highest standards and are safe in even the most busy of environments. The crowd friendly LED bulbs will never heat up to the touch, making them a safe prop to have around curious little hands.
Please be advised that these light up 'LOVE' letters are extremely popular for weddings across Ireland, so early booking is essential to guarantee availability. To rent our wonderful illuminated letters, please get in touch with a member of the team here at Infinity Wedding Services and we will check availability immediately. Should you wish to rent any of our wedding props for more than one evening, please let us know upon contact to avoid any disappointment with availability.
To enquire about pricing, get in touch with the Infinity Wedding Services team on (086) 4046260 and we will be happy to provide you with a no-obligation quotation.