CEREMONY & VENUE DECOR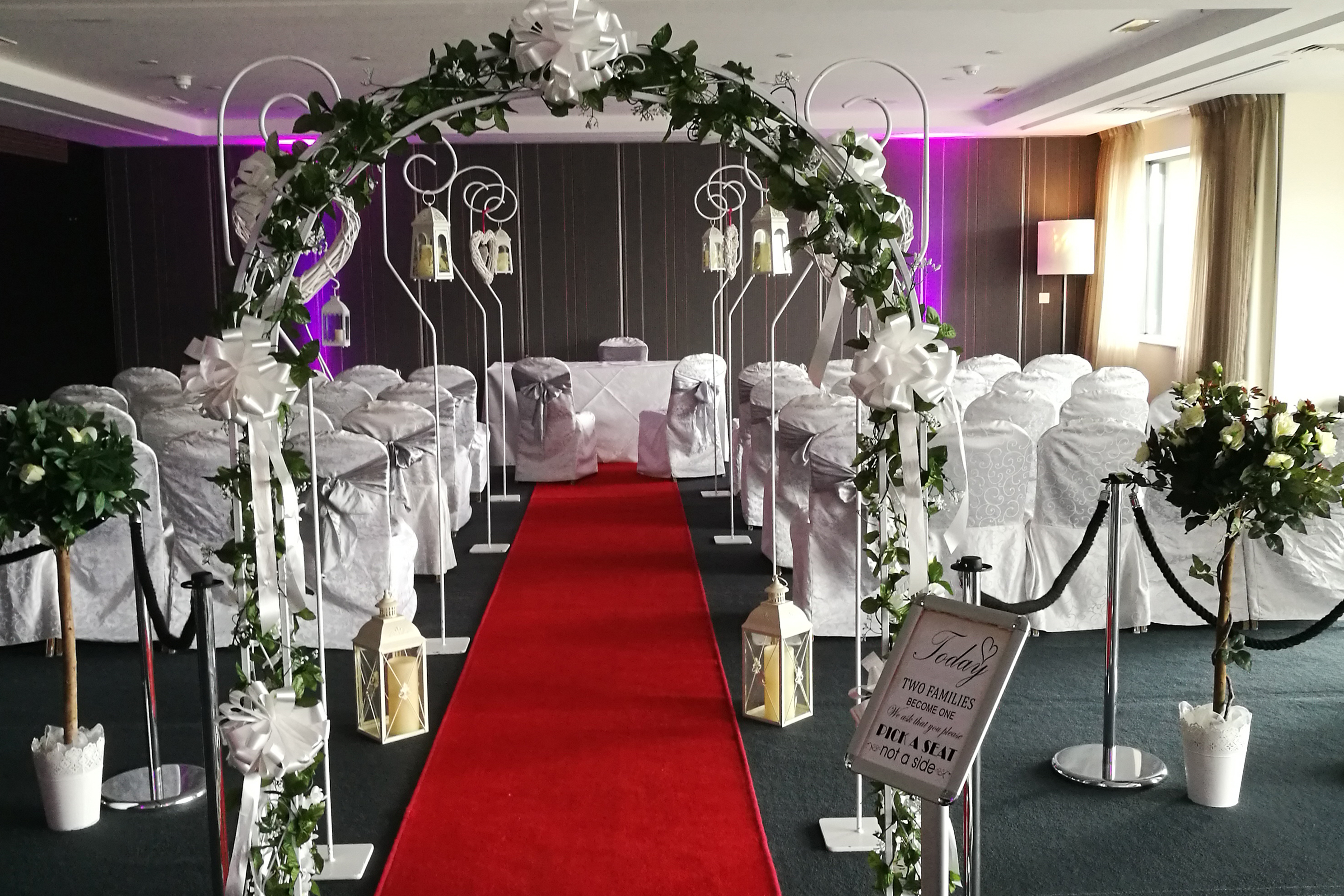 Wedding Décor Hire Ireland
We all know that one of the most important parts of planning a wedding is the décor at the ceremony and of course at the venue. Here at Infinity Wedding Services we specialise in providing a high-spec wedding décor service for locations right across Ireland.
Whether you are looking for tasteful, low-key, vintage décor or something with a bit of sparkle, we can provide a solution that will suit all budgets.
So what do we provide?
For your wedding we can provide you with a number of décor options:
Red Carpet
Every bride wants to feel like a Princess on her Wedding Day and we can help make that dream come true with our fabulous Red Carpet. It's just what every Bride needs for a Stunning Entrance.
Floral Arch
Tastefully decorated with Green Foliage and White Bows our Floral Arch is a lovely compliment to any ceremony .Whether used as an entrance piece for the Bride to walk through or as a Backdrop to a Civil Ceremony it sure to add that subtle splash of color to your day. Additional flowers or ribbons can be added to the arch by the bridal party if they so wish to match your chosen color scheme on the day.
Fairylight Backdrop
Our stunning Fairylight Backdrop is sure to wow your guests on the day . As a backdrop to your top table it's sure to add that finishing touch in any venue. It has a pleated silk finish with matching top swags and can be complimented with optional matching Top Table or Cake Table Skirt.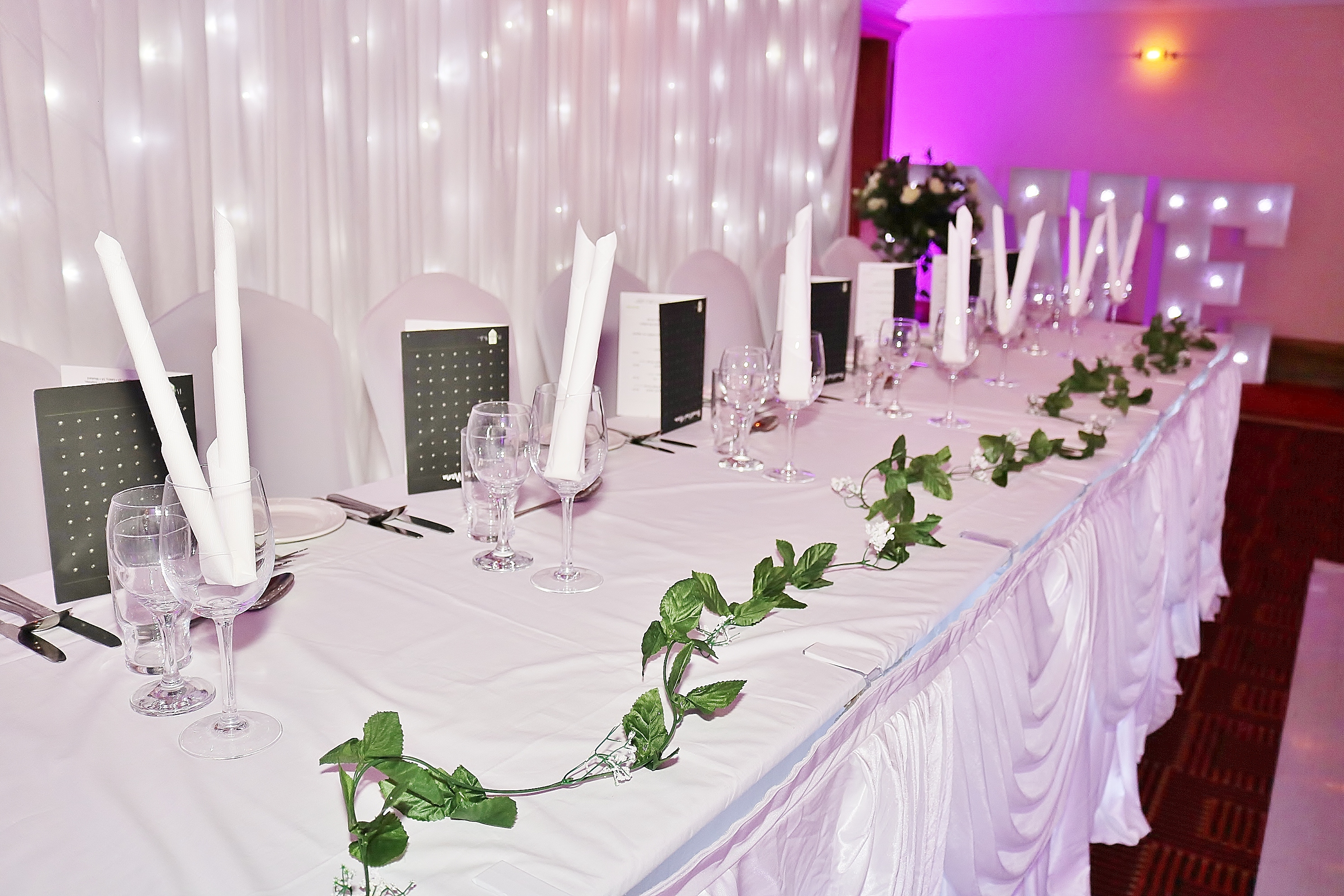 Bay Trees
Beautifully pruned real bay trees complete with ribbons of your chosen colour. Bay trees add a certain touch of class to any ceremony décor and look great outside the ceremony venue as your guests approach.
Candles and Candle Stands – No wedding would be complete without some atmospheric lighting, even in the brightest of buildings a lit candle can soften harsh surroundings. We also provide candle stands, lanterns and candle sticks of all sizes, chosen specifically to enhance the appearance of your chosen venue.
Pew Décor
In the largest of Cathedrals, the smallest of village churches or the most intimate of civil ceremony venues, pew ends or row décor really makes a difference to the walk up the aisle.
For those of you who would like to carry the décor over from your ceremony to the reception venue, we will be onhand on the day to discretely transport and set up all décor between both locations.
On the morning of your big day we will travel to your ceremony venue and will decorate it in a way that will have your heart singing as you walk up the isle. All décor can be coordinated with your colour scheme and we are happy to take on any preferences you may have.
Should you have any special requests or require an item of décor that you don't see mentioned above, please feel free to get in touch with a member of the team here and we will do everything in our power to ensure we can meet your request.
Infinity Wedding Services offers a number of wedding décor packages to suit every budget. Whether you are looking for minimal décor or an array of options, we will have something special just for you.
Call (086) 4046260 to find out more about the full range of décor options we have available. We are willing to travel anywhere in the country to ensure your special day looks as wonderful as you have envisioned.